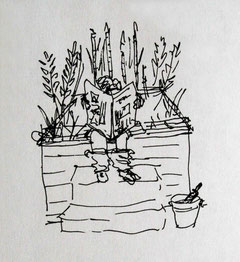 With the composting toilet garden!

We created this toilet to help occupy SPACE - for human and nature.

This composting toilet model is specifically designed for the occupation movement. It combines features of several types of composting toilet into one - urine diverting dry compost toilet, tree bog, and the traditional way of just digging a whole and plant over it.

We start out with the proven success of dry composting toilet in urban setting - urine diverting seat to prevent odor, and end with a permanent fixture that RECLAIMS place for nature.
Tara Hui and Judith Henning, November 2011
Why a composting toilet? 
A third of the household water is used for toilet flushing, a very wasteful way to use potable water. Composting toilets also save energy (because potable water has to be treated extensively to drinking water standard and the wastewater from toilet flushing needs to be treated again before being discharged into waterways. Both of these are highly energy intensive.) Composting toilets also retain nutrients that would otherwise be 'wasted' by being flushed away, which pollutes our rivers and bays. These nutrients could be used for growing plants, and reduce dependence on chemical and imported fertilizers. Composting humanure could also help prevent hygienic problems and the spread of desease, in situations where there is sever disruption of water supply and waste water treatment systems.
Poo Garden eleminates any direct contact with urine and feces, it does not require the removal of the waste matter, which makes for safer and easier handling in a public context.

To learn more about the why and how of composting toilets and hygienical questions we highly recommend reading the Humanure Handbook (Chapter 7 - Worms and Disease) and the Composting Toilets page of Greywater Action.
We have a symbiotic relationship with nature. The recognition of that interwoven relationship should be constently reinforced in our minds, particularly in urban settings where everything life sustaining is disconnected from our daily lives. Poo Garden is a symbolic reminder of our inalienable reciprocal relationship with nature.
As each planter box is filled, a new box is built and filled... so on to create a lot of Occupation supporting gardens!
We can't go on and occupy Earth without consideration of nature and nurture. As the Occupy Movement grows, so does the gardens that nurture the bodies and spirits of the Occupiers; helping to reclaim space for living things - plants, soil and gardens.
The austrian artist Friedensreich Hundertwasser published in 1975 his Sacred Shit Manifesto about this issue:

(...) WE HAVE A FALSE NOTION OF OUR WASTE. EVERY TIME WE FLUSH THE TOILET, THINKING IT A HYGENIC ACTION, WE VIOLATE COSMIC LAWS. FOR IN TRUTH IT IS A GODLESS DEED, A WANTON ACT OF DEATH. WHEN WE GO TO THE TOILET, LOCK OURSELVES IN AND FLUSH AWAY OUR SHIT, WE SIGN AND SEAL THE MATTER. WHY ARE WE ASHAMED? WHAT ARE WE AFRAID OF?
(...) IT IS NATURALLY SOMETHING OF A PRODIGIOUS STEP ... TO SITE THE HUMUS TOILET ON THE MOST BEAUTIFUL SPOT AS THE SEAT OF HONOUR. BUT THIS IS PRECISELY THE ABOUT-TURN WHICH OUR SOCIETY, OUR CIVILIZATION MUST NOW MAKE IF IT IS TO SURVIVE. THE SMELL OF HUMUS IS THE SMELL OF GOD, THE SMELL OF RESURRECTION, THE SMELL OF IMMORTALITY.
Build your own Poo-garden
(in 8 simple steps)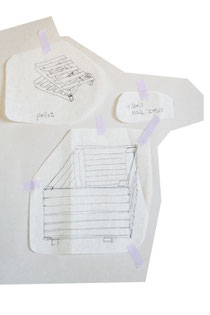 1. Start with gathering materials for building a planter box.
You can reclaim wooden planks from old pallets

2. Build a planter box 2½' deep, 3' long, 4' wide. (There are a lot of useful ideas and experiences collected  on instructables.com around reusing pallet wood for planters and other things).
To prevent leaching, line bottom of box with liner or roofing paper.
Fill some soil in the planter to appx. 1' high.
Building soil: start with laying down  2-3 layers of cardboard. Add to it 2"-4" of compost composed of any combination of the following, mixed in with some worm casting:
Grass Clippings and weeds
Leaves and garden trimmings
Fruit and Vegetable Scraps
Coffee Grounds and tea leaves
Compost
Shredded paper
Top this with 2"-4" of soil. Repeat the layers until you reach the planting depth for your desired plants.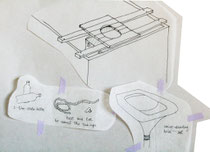 3. Next, assemble a platform with a hole for the toilet seat. Rest it on the front (long) edge of the planter. Put a cardboard box directly below the toilet seat.

4. Buy or make a urine diverting toilet seat and insert it to the platform.


5. Drill a series of small (¼") holes around the top half of the bottle, drill one in the center of the cap. Now drill a hole just large enough to fit the hose, on the sides of each bottle toward the bottom of the bottle.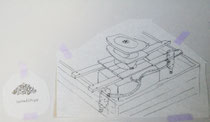 6. Connect a Tee to the urine diverter with a small length of hose, about 3", connect 1½' hose to either side of the Tee and insert the other end into the bottles. You can use duct tap to make sure they stay in.

7. Fill in more soil reaching just below top of cardboard box. Make mulch basin with wood chips on either side of the cardboard box. Embed the bottles upside down in center of each mulch basin.

8. Raise the flaps of the cardboard box. Tap a skirt with butcher paper around the box, fasten to the underside of the platform (do not impede toilet opening).
Now you can start planting … willows or bamboo are easy to start from cuttings and will thrive in the nutrient-rich soil.
Plant Recommendations:
Bamboos and willows are fast growing hungry plants, with many uses, that would thrive in the Poo Garden. However, they can be aggressly competing with other plants. Other planting options can be a combination of low aromatic shrubs, such as rosemary and lavender planted on the parameter, along with a dwarf fruit tree planted in the center when capping off the Poo Garden.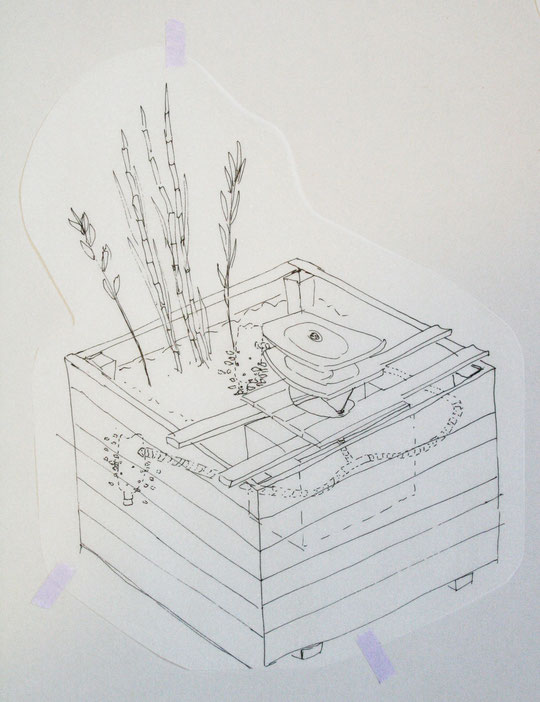 When the container is half or 3/4 full. Unscrew the top platform, pull the soda bottles out of the wood chips, and move the whole assembly - platform, urine diverter, soda bottles and the tubing, to a new planter box.

Now you can fill in more soil over the humanure, and finish planting the rest of the box - how about an apple tree?
Privacy solutions
For Privacy we have two suggestions: a simple version, the "Market umbrella"-solution with a privacy screen made of cloth clipped to the edge of a big umbrella … or the more elaborate and more space-reclaiming "Grouping"-version with curtains around the whole planter or the whole group.
Mindful use of the Composting Toilet Garden

Take a seat! Imagine yourself a giving being, each time you use this toilet, you are giving much needed nutrients to the plants all around you. There is just a little paying of attention needed:

Be sure that urine is going into the funnel in front of the toilet so, whether you are a boy or a girl, please take a seat and commune with the grateful plants =)

Urine contains a lot of nitrogen that leafy plants LOVE! When you are feeling particularly generous, make your deposits and paper into the pack compartment, try not to contaminate the urine diverter. After making the deposit, sprinkle some sawdust/fine mulch/ash over what you left behind. This will absorb moisture away from feces to keep it dry and smelling good. If you blend a handful of dry aromatics like lavender in the sawdust, shit could smell like lavender!
 This is a design with implementation proposals - not an assembly kit. No prototype has been built until now. Use common sense and act self reliant when you build your Poo Garden, as we can't take any responsibility.
We LOVE to see how you adapt the Poo Garden for your own use! Send us comments and feedbacks.
If you are building one, please send us step-by-step photos or video clips documenting the process, we'll share it with others.
Here is also a shorter printable version, that turns into a cute Poo Garden booklet, if you follow the folding instructions below :)
Poo Garden Pamphlet printing and folding instructions:

Print double sided. Once you got the double sided copies
cut along vertical center of the page
stack left-hand-side over right side
fold along horizontal center line
staple and voila - you have now a Poo Garden Pamphlet!

<If your printer does not print double sided>
Print separate front and back pages
make 1 -> 2 sided photo copies by setting printer to flip along the short axis
Now follow the above instructions
Poo Garden Pamphlet
by
Judith Henning, Tara Hui
is licensed under a
Creative Commons Attribution-ShareAlike 3.0 Unported License