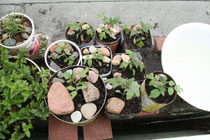 Hello again,
congratulations, you just brought your sunflower or tomatoe home and are wondering now, what to do with them... its easy: start your garden in the backyard, in a bucket on the roof or guerilla them out into the city.
Sunflowers...
grow 8-12 ft high, plant out in a sunny location, they need 16 inches space.
To learn more about sunflowers... ;)
Orange Cherry Tomatoes
Sungold
"Transplant 3 feet apart into rich garden soil in full sun. Prepare garden soil well with lots of aged manure or compost. Plant tomatoes several inches deeper than they were growing in pots. Provide strong stakes or tall wire cages at when planting, as vigourous, indeterminate Sungold grows tall with heavy fruit loads. Mulch to provide even moisture retention. Don't over-water once fruits begin to ripen." (Renee's Garden, seed-package)
If no garden is available a bucket (with some holes in the bottom) or a big flowerpot will also serve well.
Be careful with the sometimes sharp edges of the direct-recycled flowerpots - everyone participates in the metagarten-garden-project at his or her own risk.
I started my own roof garden just some weeks ago... look here for photos of the first stage. The text is in german, unfortunately ...
And here you see how it grew: